Hello Everyone
I am back with another giveaway for my wonderful readers .
Its giveaway of Auravedic products .
About the Brand :
All the products from Auravedic are made from natural ingredients and they do not contain any harsh chemicals so are safe to use .
About the prize :
One lucky winner
will get a gift hamper from Auravedic containing 4 products
1.Skin lightening formula 50 gm
2.Harmonizing Hair Cleanser 100 ml
3.Kajal 2.5 gm
4.Neem Basil Tea Tree Soap 100 gm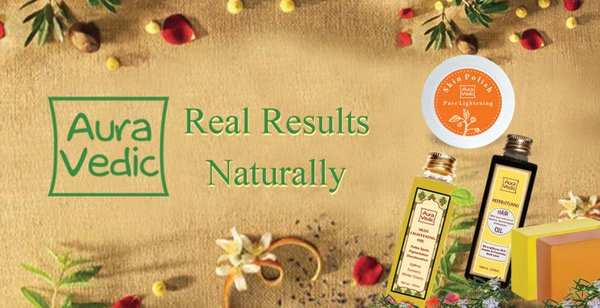 I have reviewed some of the Auravedic products on my blog . one can read reviews here :
1.Auravedic Pure Lightening Skin Polish Review
Click Here
2.Auravedic Kajal Review
Read Here
One can buy Auravedic product from online store like Limeroad.com or directly from their website
Auravedic.com
Rules for this Giveaway
1.Follow me on Google+ , Widget given at the right corner of the page .
3.Follow me on instagram , my instagram ID @ghazli123
4.Follow me on twitter
Naseem Ghazala
& Auravedic on Twitter
Auravedic
5.Do email Subscription , widget given at the right side of page , and verify your subscription .
6.Leave a comment below with your name , email ID and City and tell why do you want to win this hamper .
7. Leave a comment on any of the Auravedic product review post on my blog .
8. Participant must be Indian resident with valid postal address where I can ship the prize .
Extra Entries:
1. Share the giveaway post on facebook tagging minimum five of your friends and tagging Auravedic .
2. Share the giveaway on Twitter tagging five of your friends .
3.Repost the giveaway post on instagram tagging five friends and tagging me so that I can check .
4.Be active on my blog and try to leave a comment on the posts you like , one can leave comments on older posts as well .
Winners will be chooses on basis of their Active participation and sharing on social media sites .More sharing more chances of winning.
This giveaway will run for 15 days and winners will be declared after that .
This Giveaway is sponsored by Auravedic so I will not be responsible for any delay of prize or any such thing .
Hope you all enjoyed reading this post and would like to see active participation of my readers .
Thanks
Ghazala Naseem
*****************************************
Updated on 04/06/2016
Winner is
KAVITA NEGANDHI