With friendship day around the corner everyone thinking of how to celebrate it and make it memorable.
Friendship is a relation of mutual affection between two person .
They are not blood relation , but sometimes the bond is stronger then what we have in blood relationship . Friends are integral part of our lives , we laugh with them , Cry with them , Share all our secrets with them , we help each other in time of needs , help each other to grow in profession and most important are emotionally dependent on each other .
Friends are like Angels who are being sent by Almighty to brighten up our lives and make us happy :)
Friend list of some people are too long while for some it's short with few selected ones .
I am of the second category , I have few friends but all of them are special for me as we share strong bond of Love , Affection and Trust . And they are important part of my life.
To start with I had some good friends during my childhood days , neighbours , school friends etc but with passage of time could not keep in touch with all , just a few , that too met them after ages on Social Media like Facebook .
Still in touch with my Best Friend of my Bachelorette days , Her name is
PRATIVA
.
We were colleague in the same school , Spent good time together , had lots of fun and stayed connected even after getting married . We still share all our secrets :) and do support each other emotionally when ever needed .
After marriage I could not keep in touch with my other friends because of relocations and was occupied with household chores and small kids .
Then after a decade when I was active on Social Media , got in touch with old friends .
Still was missing the warmth of good friends .
Luckily made some good friends when started blogging .
Blogging gave me a bunch of lovely friends
who are caring and affectionate .
Would like to mention two special ones :
ANJALI SENGAR
of blog ZIC ZAC MANIA
ZAINAB RAAZI
of blog SLIMEXPECTATION
These two lovely ladies have given me so much of love , affection and have pampered me so much that I really feel blessed to have them in my life :)
They are like my Sis , taking care of my small needs.
Their friendship have given me so much of strength and positivity.
There are few things which we can not share with family because of some reasons , True and Trusted friends are of great help at those moments , as they will listen to you and will help you by their valuable suggestions and will give you emotional and moral support , which is so important to get de-stressed and feel normal , if not one might get into depression or some other mental problem .
Have some more good friends here in Hyderabad.
They are also special ones :)
Have given me lots of positivity which eventually helps to keep going in tough times and the best part is they Trust you and your abilities , they make you feel special by saying kind words , believing in your talent and supporting you in all possible ways .
Their Unconditional Love is a source of Strength .
I never myself felt that I am a Great Blogger but when one of my friends here told me that For me
" You are India's Number One Blogger " , you write so good and I enjoy reading your posts :)
That gave me enough motivation to write better and work harder on my articles.
With every winning of a blogging contest or any simple giveaways , my friends were happier than me :)
So this way friendship has brought lots of positivity in my life .
I feel blessed to have such wonderful friends and Thank Almighty for giving me such lovely friends .
Few months back when I was in US for a family vacation , I was missing my friends .
One day was thinking of my bestie and saw something which was amazing :)
My bestie's name starts with Z and when I saw this Z on clouds, I was amazed, surprised and felt this is something beyond explanation , You Miss Someone and you get connected with them any how , When you have immense love for someone , you see that person's name everywhere as its in the mind and soul :)
So I immediately clicked pic and send it to my bestie to show , since was missing you , saw your name :)
Finally before ending this post would like to Thank all my lovely friends for giving me so much of Love & Affection .
Thanks for scolding me when I was wrong
Thanks for Loving me when I needed most
Thanks for Listening to me
Thanks for Trusting me
Thanks for Supporting me
Thanks for Being with me :)
With this Thank You Note, ending this post and hope you all liked and enjoyed this post
would like to know your friendship stories in the comment section below :)
This post is a part of
#FriendshipBlogTrain
hosted by flavors of world and Throughmyinkwindow.
Read 20 awesome articles by the popular bloggers of India . So come and join us to celebrate the most beautiful bonding - Friendship .
Thank you Yogeeta for introducing me to this amazing blog train.
Yogita is a Lifestyle Blogger from Pune and blogs as a hobby and she holds a degree in Adv Diploma in Fashion Designing.
Our next station is My Tiny Tigger Blog.
I would like to introduce Sinduja,.
A Civil Engineer by Profession and a Mommy Blogger .
Do check her blog and her post in series of this blog train.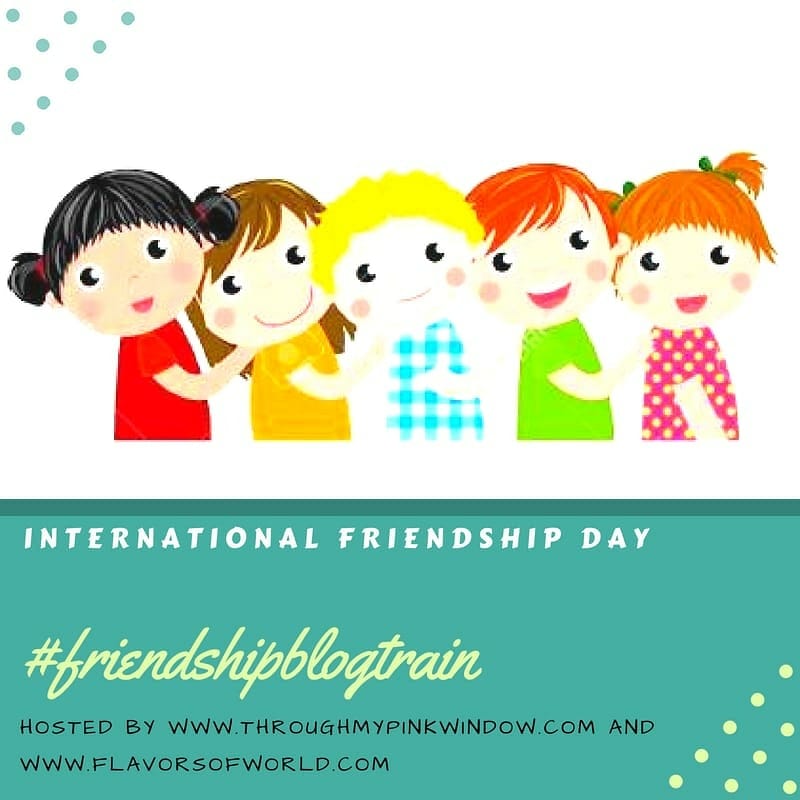 LOVE
GHAZALA
( Image Source : Bing.com )